Tiltlabs Wins Big in Homajam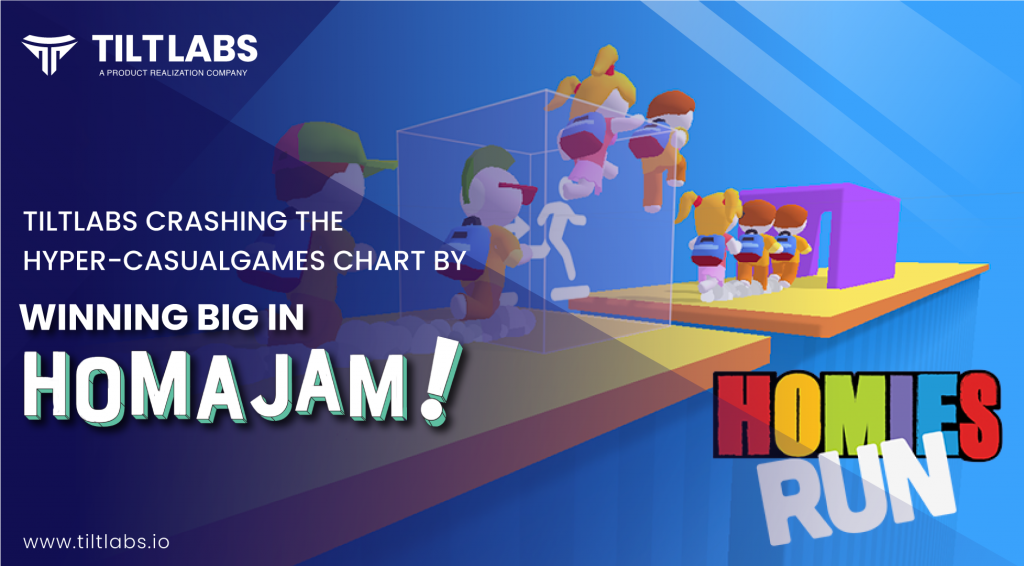 Homies Join Fun Run's win at Homa Games in the category of Coups De Coeur, Favourite of the Partners is yet another feather in our cap. TILTLABS's expertise in creating super cool and fun hyper-casual games met with HomaJam's hunt for the best games and talent around.
Homies Join Fun Runs is a hyper-casual game where one can touch the screen to make a homie run and place action cards to make homies jump, dash, shrink and expand them to complete levels, unlocking new homes.

TILTLABS creates Hyper-casual games that are lightweight with simple mechanics and minimal design that offer instant gameplay and user engagement. Unlike other genres, which have very specific audiences, hyper-casual games are built for the masses.
Hyper-casual games are topping the app store charts being mobile gaming's most profitable genre. Within half a century, these games have gone from primarily being played for time pass to accumulating revenues of over $100 billion per year. Hyper-casual games are now the most downloaded genre in mobile gaming worldwide, accounting for 31% of all installs, according to data from Sensor Tower. By recent estimates, the gaming industry is on track to double these already impressive numbers by 2023. 
With competition being high and every developer and publisher wanting to create something in this genre, there have raised some common trends in hyper-casual games lately. Listing some of the most exciting trends we follow here: –
Anything and everything is adapted to the hyper-casual genre now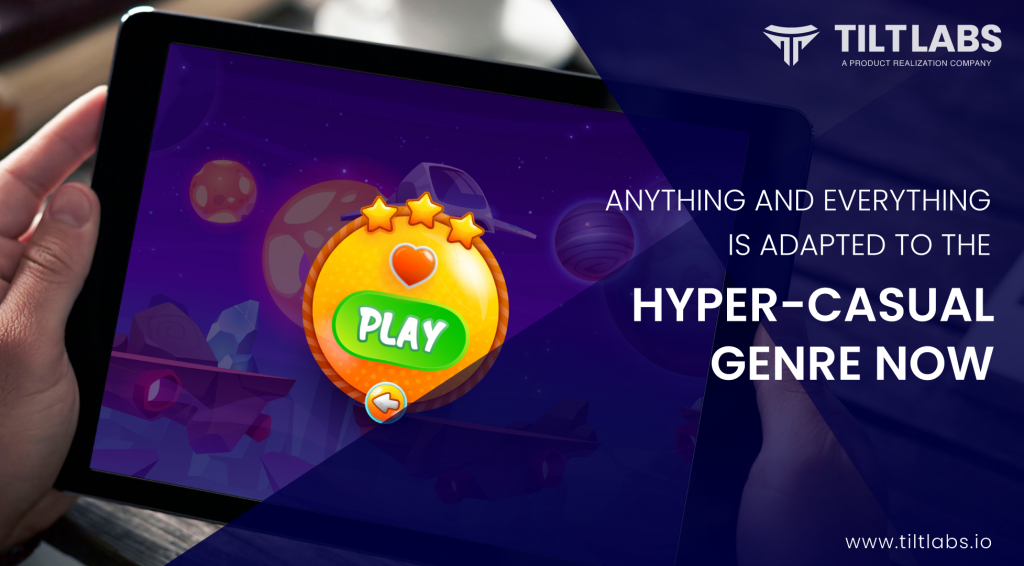 Now hyper-casual game developers have a culture of adopting anything and everything to this genre. Being a lightweight game with minimal design and relatively easy to produce, any concept which is likely to attract a mass audience is finding a way to being a hyper-casual game. The trend of feel-good mechanics is what we follow here to create hyper-casual games that engage our players to relax and urges them to take some time out.
IP- based games- our newest attraction
Hyper casual games backed by a prominent third party are a rising trend seen in latest years. Brands find games as an effective way to better recognition and positioning. Users that are loyal to a brand are more likely to play a game for a longer time and ultimately increasing the retention rates. We create hyper-casual games that can help brands to reach and influence a mass audience, making it not only an opportunity to increase brand awareness and loyalty but also to drive sales both in and outside of the app. 
Visuals being more realistic
Being in a race to attract a mass audience, hyper-casual game developers have been creating visually stimulating creatives that could give them an edge. With a higher number of games available in stores, players tend to choose the game with the most appealing visuals. This has changed the focus of developers to improve the graphics and visual quality of games. Generating unique Hyper casual designs that can crack the download charts is what we are keen on developing here.
With their fast development cycles, desirable genre, and profitability for developers and publishers alike, these once-upon-a-time "simple" games are continuing to not only prove that they are here to stay but also their strength and influence in the wider mobile gaming market. Trends in hyper-casual games tend to be small and continue to rise and fall. But this genre is built in such a way that it can easily adapt to changes and evolve. On keeping updated with these changing trends and handy with the right tools to incorporate its unique elements, TILTLABS is one step ahead in staying on top of the hyper-casual game charts.
Stewart Rogers, Hyper-Casual Games: Trends and how to reach scale, April 16, 2021, accessed June 8, 2021
http://web.archive.org/web/20210416092755/https://dataconomy.com/2021/04/hyper-casual-games-trends-reach-scale/
Rae Steinbach, The 4 biggest hyper-casual game trends of 2021, accessed June 8, 2021
https://supersonic.com/blog/the-4-biggest-hyper-casual-game-trends-of-2021/