How 5G Enhances VR Experience?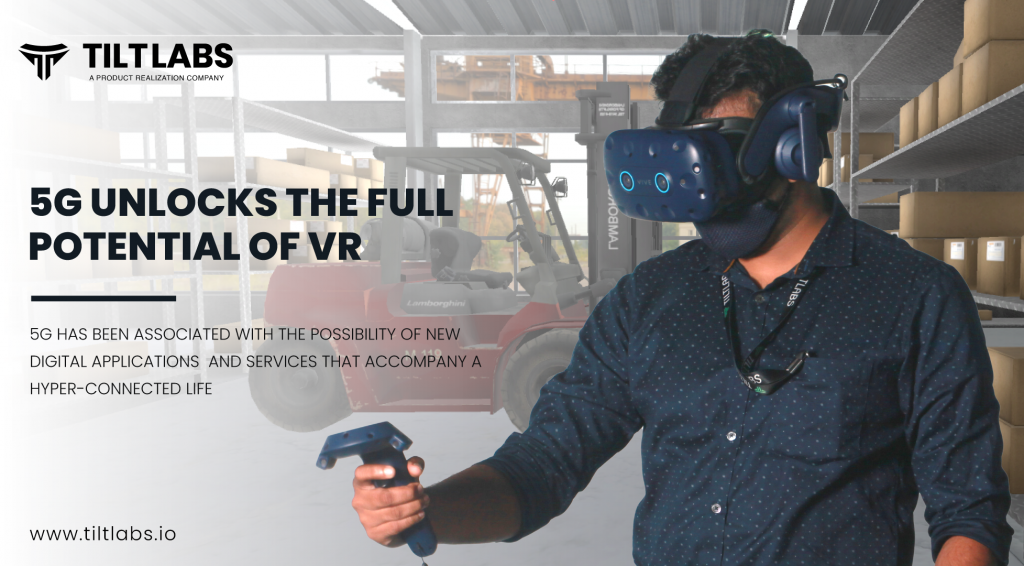 5G has been associated with the possibility of new digital applications and services that accompany a hyper-connected life . We've seen how this new technology, which permits  "perfect" connectivity, adds additional value to both consumers and enterprises.
The global pandemic is having a significant impact on our daily lives, and the importance of new emerging technologies and services are increasing as a result. For example, we've noticed an uptick in demand for communication services, remote collaboration tools, and efficient and consistent data access — whether from the workplace, home, or both.
In this new digital reality, VR is a technology concept that offers significant benefits. In industries like manufacturing, gaming, media, automotive, and healthcare, this technology brings up new methods of working, allowing for better productivity as well as entirely new user experiences.
VR applications also provide service providers with new business models and opportunities. These new use cases are being brought to life by the combination of 5G access networks, high-performance distributed 5G core capabilities, and new devices.
5G expedites the Virtual Reality revolution!!
Starting with 1G and progressing to 4G and now 5G, the telecom industry has always evolved to take advantage of the latest, better technologies as they become accessible. In fact, 5G will hasten the pace of technological adoption.
Immersive technology, such as VR, is a key component in enabling 5G use cases and business models, as well as contributing to the high performance, high-capacity, high reliability, and low latency associated with 5G, all delivered at a low total cost of ownership (TCO). This combination of improved performance and reduced TCO is critical in dealing with incremental growth in data traffic.
5G empowers Virtual Reality experiences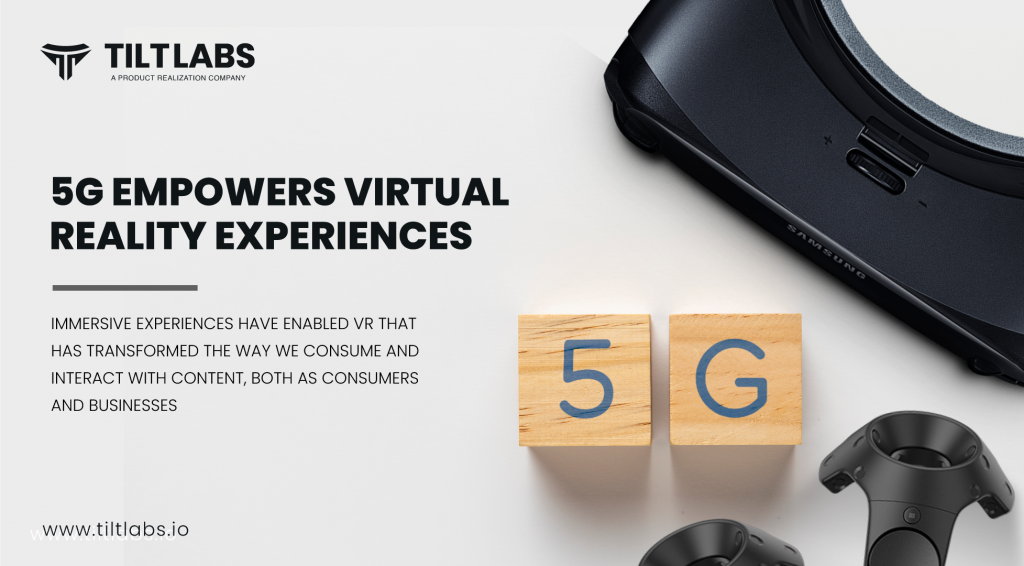 Immersive experiences have enabled VR that has transformed the way we consume and interact with content, both as consumers and businesses. 
Creating VR experiences, on the other hand, does not come without technical challenges. To combine and synchronise the real world and user movements with the digital world a huge number of visual processes are required. Because graphics highly require extensive rendering, on-device processes are supplemented by distributing workloads between the AR/VR device and the edge cloud. A fast and reliable 5G connection is required to deliver a final experience to the user.
VR applications require strong network requirements including low latency, high reliability and high bandwidth.
It's no secret that there's a surge in interest in virtual reality. Mordor Intelligence predicts that between 2020 and 2026, the value of VR will rise from $17.25 billion to around $184.66 billion, representing significant growth. 5G is possibly the smartest infrastructure for virtual worlds and represents a new boundary for VR.
Perks of 5G for Virtual Reality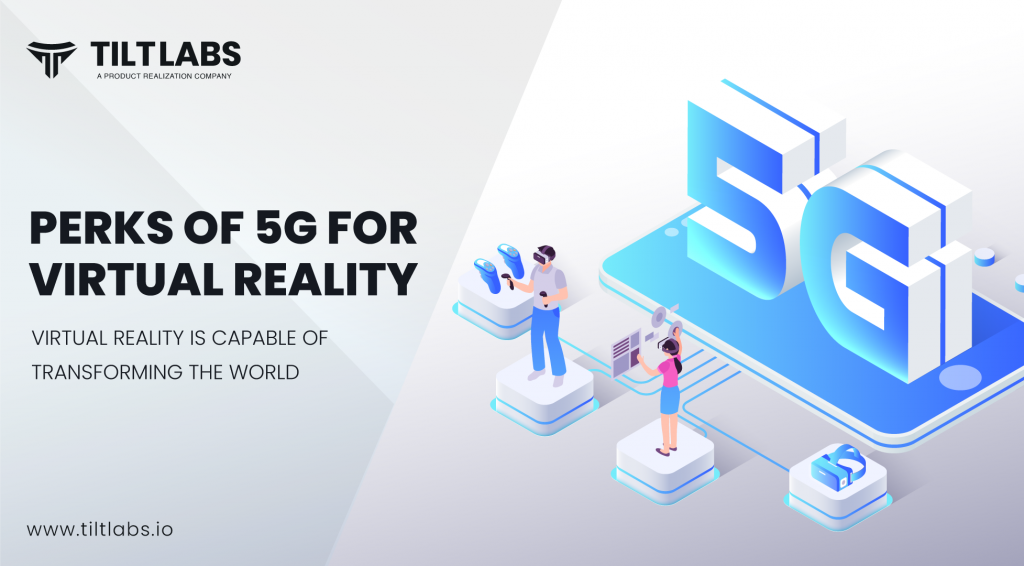 Virtual reality is capable of transforming the world. Especially in this post-pandemic era, VR denotes a risk-free way to be "present" with friends and colleagues. Virtual reality ecosystems can serve as hotspots for safe collaboration and interaction. These tools also open the door to new degrees of creativity, without any of the problems of squandered resources and money.
5G technology promises significantly faster download and upload speeds, greater coverage, and more stable connections. If VR is to continue to evolve, it will demand a more affordable, larger network with lower latency and greater consistency. In simple terms, 5G is a requirement and the future of immersive technology is dependent on it.
To run VR applications, many of the VR head-mounted (HMDs) displays require a strong PC. This indicates that your amusement with VR is limited to a specific site. With the introduction of 5G, storage, power consumption, and processing power will be shunned from the PC and into the edge cloud. This means that VR users will only need a headset, allowing VR to be consumed at any time and from any location.
The VR solutions today have to deal with a considerable delay between response and request. You will not always reach out to virtual content in real-time and interact with it. The higher the lag, the lower the plunge. 5G can efficiently reduce latency by approximately 10 times and improve data transfer rates. Lower latency equates to an increased responsiveness.
The bare minimum for playing non-VR games is 50 milliseconds of latency. In VR, when the latency is over 20 ms, users experience nausea. The impact of reduced latency will drastically affect our way of interacting with virtual experiences. Many of the "VR sickness" problems experienced by individuals today are due to the lag between their body's movements and the response of the VR machine. Less latency results in fewer moments of nausea.
The VR experience highly depends on a lot of data moving from one computer system to another. In order for a VR experience to function properly, the data need not just move fast – it needs to prevent congestion which leads to twitchy images or content not being loaded as it ought. VR applications can be attuned to network performance, with interruptions affecting user experience significantly.
5G enhances the data that a system can process at any time, improving the system's reliability and performance.
Furthermore, 5G systems are able to handle larger amounts of data more neatly and without any lag or congestion, such as 4K video streams or 8K video. This should make sure that graphics are more immersive and accurate on VR devices. Today's VR companies increasingly test tools to make displays more wealthy than their previous, pixelated counterparts.
5G will facilitate that the stunning sceneries that we can produce in software environments can stream coherently onto Virtual Reality headsets, the result should lead to better, lighter and more comfortable headsets.
 5G's functionality supports several VR applications, such as real-time video rendering, shorter download and installation times and expansion of brands and shopping experiences beyond shops. Utilizing 5G in the VR world, users may roam more freely in a virtual environment without worrying about accidentaly leaving a data circle. Regardless, the space a person with a VR Headset may cover still be limited, 5G offers us a greater degree of reliability in digital reality and results in improved mobility.
No one wants to deal with the consequences of fluctuation in data connection when companies provide crucial training experiences or collaborate on complex designs, thus disrupting their boundless virtual experience. 
Furthermore, 5G acts as a catalyst for better virtual reality collaboration. Many organisations have already been looking at virtual reality as a mode to bring teams from different locations around the world together. Regretfully, not every team member will have access to a strong Wi-Fi connection, so that they can actively participate in the VR experience.
VR headsets getting increasingly 5G compatible has widened new collaborative possibilities.  People who previously had no access to the right data bandwidth to join a VR meeting can now easily enter a virtual environment. This could lay the groundwork for remote team members and specialists to have far better access to a hybrid workplace.
5G will turn the landscape of the VR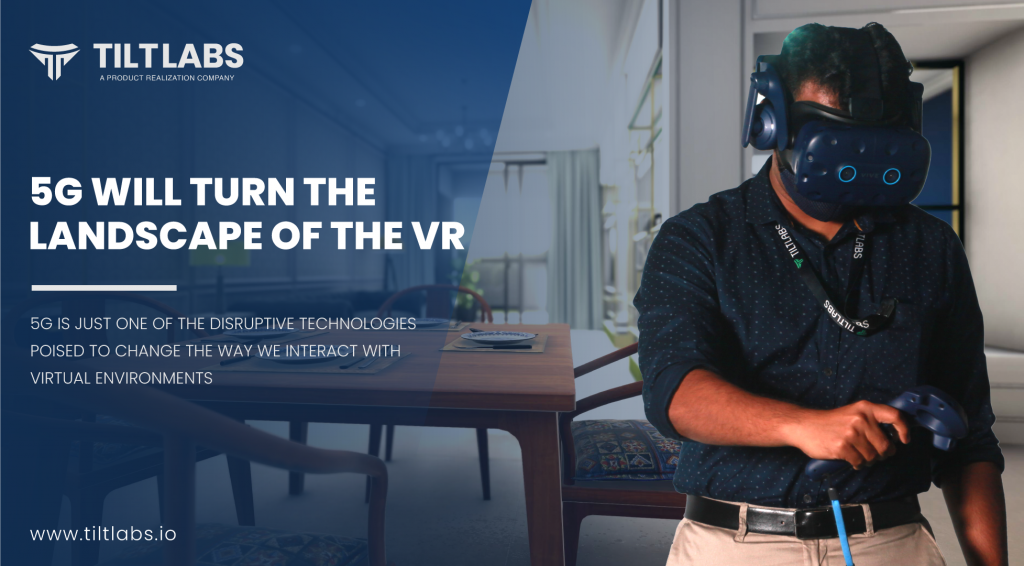 Developers and designers are looking for further extensive ways to take virtual experiences to the next dimension. Now that companies and individuals alike are becoming more interested in the concept of VR. 5G is just one of the disruptive technologies poised to change the way we interact with virtual environments and it will make the VR environment more accessible to businesses worldwide by improving data streaming capability, lowering latency, and increasing reliability.
With the rise of 5G connectivity, some of the major issues that have previously prevented businesses from adopting virtual reality could be resolved. 5G represents a new horizon in the development of virtual reality when combined with other disruptive technologies such as AI and IoT connections.