Tiltlabs Participates in India Gaming Show 2021
With one of the world's largest youth population, India is poised to become one of the world's leading markets in Gaming Sector. Currently valued at USD 890 million, the Indian Gaming Industry is estimated for the annual growth rate of 14.3 per cent with mobile Gaming taking the lead at 71% share.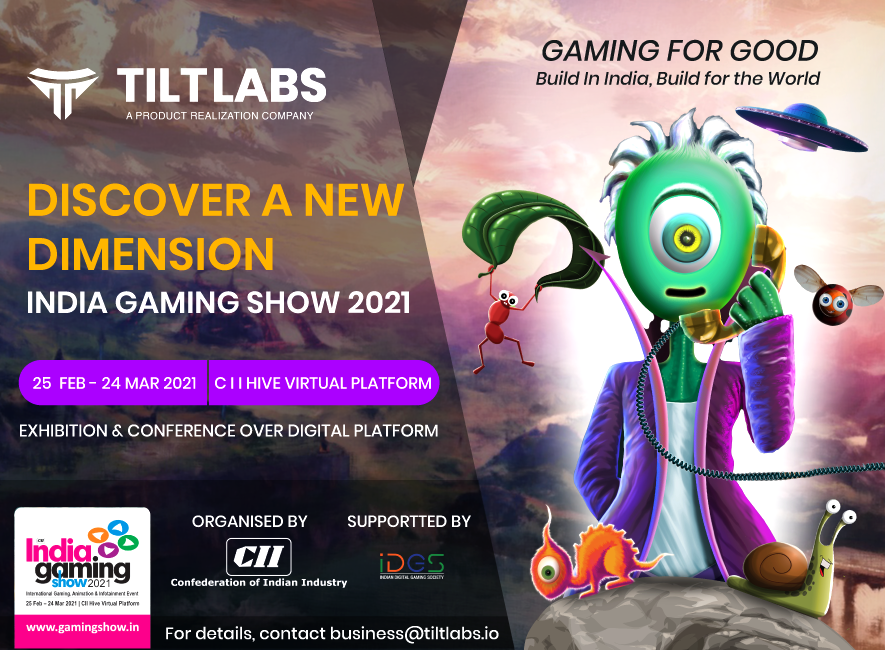 Highlights of Gaming Market in India
World's largest youth population
World's second largest Internet population
Availability of creative talent
Huge skills base across IT, Testing and Arts
World-class infrastructure and advanced technology
Presence of big development centres like Microsoft, Nvidia, UbiSoft, Zynga, Electronic Arts, Disney, Playdom, Sony, Digital Chocolate, etc.
With revenue in the Mobile Games segment in India expecting an annual growth rate (CAGR 2018-2022) of 9.8% resulting in a market volume of USD 943 million in 2022, we think the time is ripe to collaborate with India Gaming Show 2021 to explore more of the opportunity.
India Gaming Show 2021 is an international Gaming, Animation and Infotainment virtual event organised by The Confederation of India Industry (CII). It will be held from 25 Feb to 11 March 2021 at CII Hive Virtual Platform.
The event will cover areas like Technology showcase by large companies, latest games, Animation, Gamification, Gaming Zones, Start-ups, Skill & Skill Development, Digital India, 'Make in India' along with consumer section, Cosplay, conference and stage events providing the platform for the industry to connect with visitors at large. This event is aimed at helping the Indian Gaming Industry create a roadmap for making this sector a world market leader, keeping in view India's largest young consumer base.
We, at TILTLABS, are on a mission to redefine education and entertainment via Gamification. We embrace the concepts of games and immensely believe it has the potential to educate and train audiences of all segments to enhance and be better connected with the things that matter most.
We utilize core concepts of various brands to create interactive experiences that are both rewarding and engaging opening various possibilities for cross-brand promotion and marketing. We also use games as a medium for social awareness incorporating real-life scenarios and providing a learning experience for users where they have to make decisions.
With a diverse Clientele spread across Singapore, Dubai, Italy, USA and with vast experience in developing a variety of game and gamification apps for education and entertainment purposes, we are looking forward to participating in the event and exhibiting our capabilities to the right audience.