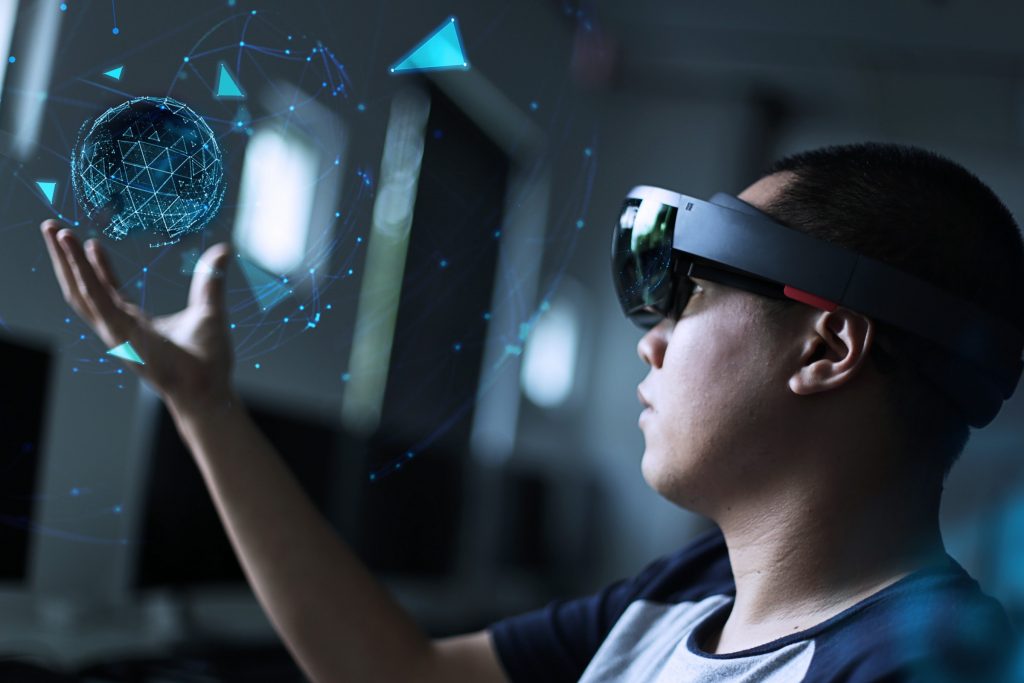 Introduction
In the era of Industry 4.0, emerging technologies are paving a pathway to digital and industrial transformations.
Bringing life to machines helps Enterprises to unlock exponential value, drive mass personalization and achieve new business models that enhance quality of life by blending technology smoothly.
HoloLens can be used as a powerful tool for Visualization. It provides real-time monitoring and instant feedback, thus, increases production efficiency, enhances production line and standardizes training by providing rich and deep information.
In contrast to conventional display technology, the HoloLens is able to plot data as a 3D hologram.
This technology advancement provides floor managers in an organization a much greater depth perception, allowing the display of more data in a much more comprehensible form.
HoloLens allows us to visualize and manipulate multidimensional data and facilities data analysis and pattern recognition.
Hence, HoloLens can be seen as a general purpose data visualization tool.
Design
HoloLens is designed to engage users deeply with their surroundings that use a transparent visor to display 3D images on top of the real world.
As we all are visual learners, the built-in camera records videos of the workspace and avails smart learning going on in real-time.
The processor in HoloLens uses a time-of-flight sensor that allows users to visualize the physical space in 3D and interact with them effortlessly.
Also, through gesture recognition, users can grab or touch objects in the same way as in the real world.
Applications
Every industry is exploring the applicability of HoloLens for reformulating their business model in the market.
Remote assistance and troubleshooting, remote diagnosis, real-time customer feedback are some major MR applications that have completely redefined every industry.
Earlier, factories and other work sites were not the suitable ecosystems where advanced and innovative technologies could be implemented.
Through the adoption of innovative devices like HoloLens, industries have evolved to an extent that these immersive technologies are adopted in complex work procedures.
Hololens enables 3D design in a highly realistic environment, resulting in models that resemble the final product as closely as possible. Virtual teams of designers can also collaborate on product designs and share ideas remotely, thus reducing travel costs.
Communicating and interacting with remote users using HoloLens is one of the most significant industrial applications.
In many sectors, HoloLens has been used as a design and asset visualization tool.
One can walk into a real-world environment like a work environment and view holograms of machines, vehicles, tools and human workers and interact with real-time operational data and have a boundless experience.
In production environments, having access to live data from IoT-enabled machines for equipment controllers and line supervisors is way too useful as they can improve planning processes and maintenance work.
For field workers, being able to view real-time data in the cloud during the execution of their work means timely and accurate decision-making about production.
These applications show possibilities for HoloLens beyond a machine overlay for maintenance and training.
HoloLens manages any complexities and is superior to the 2D tools we currently use.
Merits and Demerits
Technology is forever evolving and we're always searching for the advanced technology to create effective solution that benefits humankind
Merits
Hololens is a futuristic and interactive tool with gesture recognition. It's hands-free with excellent build quality and impressive attention to detail.\
The Hologram resolution and spatial sound is so real making its application potential limitless.It allows a meaningful interaction with digital data and real environment as it blends well with the real world or even simulates a virtual space.
HoloLens provides rich and deep information that enhances comprehensive skills of engineers and management people.
Demerits
HoloLens is extremely promising but there are few demerits associated with it.
Its narrow field of view, restricts users to fully comprehend or absorb into the immersive world.
HoloLens is not intended for use by children under age 13, so it is not appropriate to use as a learning tool for students in elementary schools and intended for use in companies, factories or for field staff.
Hololens contains a built-in battery that is not user replaceable. Improper use of which may cause battery damage.
HoloLens may also tend to increase the risk of motion sickness and can cause eye strain and dryness.
Conclusion
Previously, tablets, desktops and big screens were used for interactions within the workplace and information were received in 2D form.
With MR technology, innovative devices like HoloLens helps to visualize assets with more clarity.
HoloLens is leading the way in modern enterprise and has a wide range of use cases. It provides amazing opportunities to visualize space and data.
Interestingly, HoloLens is revolutionizing the way we work and live.
It has few limitations, but compared to the benefits, it stands a chance to overcome the challenges in the future.
HoloLens is innovative and differs from existing concepts and products